Cartier Awards : Baaeed sacré cheval de l'année 2022
2022, November 9: Princess Zahra awarded Cartier Award Wednesday in a ceremony held at Dorchester Hotel in London for her horse Vadeni being the best over 3 years!
Par
Liz Price
Publié le 10/11/2022 à 00:11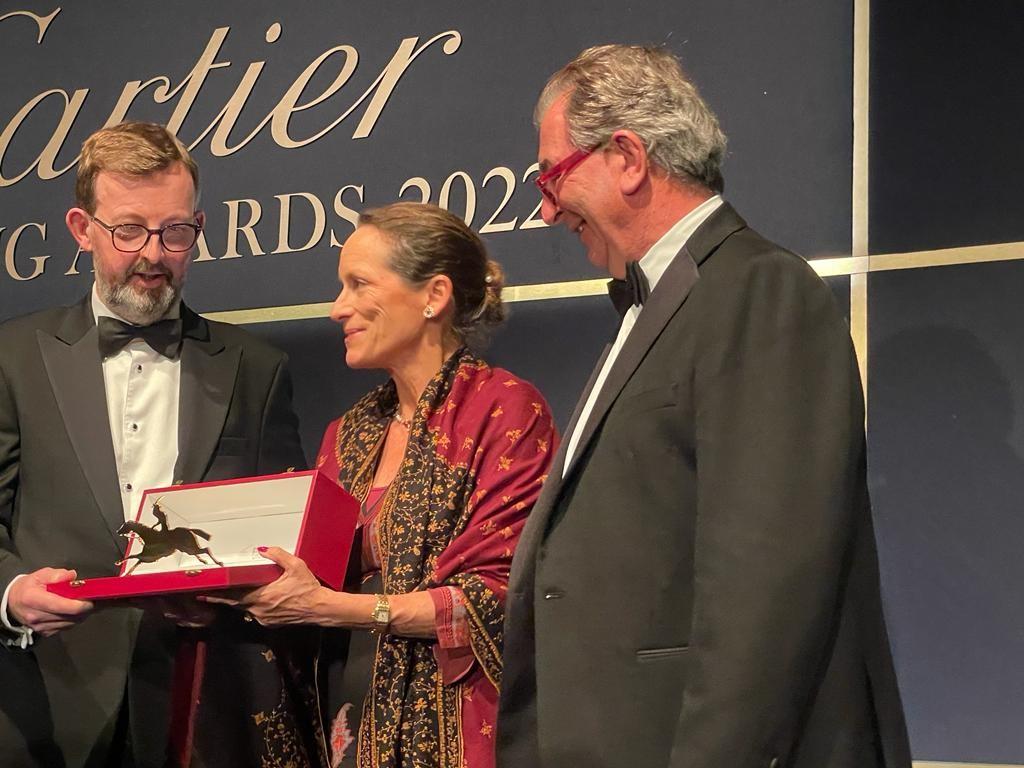 © BRIENSPHOTO.COM
Mercredi soir, lors d'une soirée somptueuse à l'hôtel Dorchester à Londres, Baaeed a reçu le prix Cartier cheval de l'année. Le fils de Sea The Stars, lui-même récipiendaire de ce prix en 2009, reçoit cette récompense après avoir dominé les groupes I disputé sur le mile, dont les Lockinge Stakes, Queen Anne Stakes et Sussex Stakes, ainsi que les Juddmonte International Stakes, une compétition longue de 2.000 mètres. Entraîné par William Haggas et appartenant à Shadwell Estate, il bat des chevaux comme Alpinista, la lauréate du Prix de l'Arc de Triomphe, ainsi que Kyprios et Highfield Princess. Dans la catégorie des 3 ans, c'est le français Vadeni, entraîné par Jean-Claude Rouget et appartenant à SA Aga Khan, qui reçoit le Prix Cartier grâce à ses succès dans le Prix du Jockey Club, les Eclipse Stakes et sa deuxième place dans le Prix de l'Arc de Triomphe. Il devance Desert Crown, le vainqueur du derby, puis Coroebus et Modern Games. Dans la catégorie des pouliches de 3 ans, c'est Inspiral qui est honoré, tandis que Kyprios est couronné meilleur stayer et Highfield Princess meilleur sprinter. Chez les 2 ans, c'est Blackbeard qui reçoit le prix pour les poulains et Lezoo pour les pouliches. Quant à l'éleveuse Kirsten Rausing, qui a élevé Alpinista, elle a reçu le prix du mérite.
-------------------------
www.theirishfield.ie
Princess Zahra Aga Khan presented with the 2022 Cartier Award for Vadeni
Princess Zahra Aga Khan was presented with the Cartier Three-Year-Year-Old Colt Award by the Racing Post's Alan Btrne for Vadeni, who captured the Group 1 Qatar Prix du Jockey Club-French Derby and the Coral-Eclipse in addition to finishing second in the Qatar Prix de l'Arc de Triomphe. The colt will remain in trainig.
Jean-Claude Rouget said: "Vadeni did something special in the Prix du Jockey Club and that was why we decided to go to Sandown, where he won well too. After that we gave him a little break and he was a bit short of condition at Leopardstown, before running well again in the Arc. I hope that we can be champion next year."